I have the cutest new kit to tell you about today!
Kat
's son just started preschool last week and in honor of that, she's come out with a super cool preschool kit! I know, I know, there's been a lot of school kits out lately, but this one is just for the little kiddos with lighter colors and funky elements! Check out the layout I made with it:
You can get the kit in her store and if you head over to her blog, you can score a cool add-on and some QP's.
I decided to make a QP for you today, so just click on the preview to download mine.

And I also made a little mini-kit that coordinates with Kat's "Preschool Days" one. Check it out. You can click on the preview to download it as well: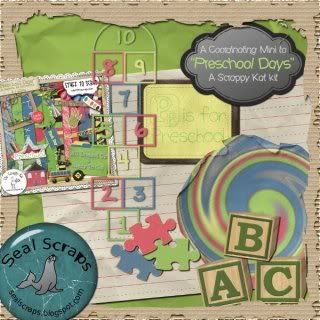 These are on 4shared right now; I've been out of town for the weekend and missed the 4shared fiasco. It's supposedly okay now, but I'll be looking into other options this week, so stay tuned!