Man are you in luck this week!
The Scrappy Kat
has teamed up with
Nibbles Skribbles
and
Scraps of Ellay
to make a huge summery collaborative kit called "Tutti Frutti". And guess what? This week only they are offering it to you for free on their blogs!!!!!!!!! There are not enough exclamations points to show how freaking awesome this is! I'm telling you, this thing is huge, so you're getting an incredible deal here!
Here's how it works: Monday you can snag the papers, Tuesday is the elements, Wednesday are the alphas (yes, ALPHAS, plural), and on Thursday...you're not going to believe this...on Thursday all their CT's have combined to come up with a HUGE brag book hop for you! Yep, you read that right: we are each making a brag book for you to download for free! At the end, you'll have enough for a whole album! Can you even believe how generous they are?!
So, take a look at this layout I just made with the kit and then check out kit previews (each linked to their blogs) and hop over to download it all, starting with the papers: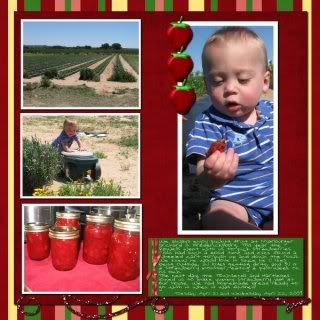 See you back on Thursday for your brag book download! :)