So, earlier this week, through annoying circumstances mostly beyond my control, I lost my whole digiscrap stash. Ug! This included kits I'd gotten as well as kits I was working on. :(

Needless to say, I feel like I've sort of fallen off the digiscrapping radar this week. Not only have I sort of neglected my CT duties, but I haven't really done much scrapping of my own either.

Well, I'm trying to hop back on the wagon and get some information to you! So here goes:

Nicole, over at STS is having a CT call! She is one of the first designers I discovered when I began, so getting to use her kits is definitely an opportunity. Check out all the information in the flyer below. You've got another week to get your application in!

Also, and this is just incredible, the designers over at STS have put together a rockin' collab for birthday scrappin'. You can go buy the kit...BUT, if you are registered in the forum and have your profile set to show your birthday, you will get the kit for FREE as a birthday present! Wow, how awesome is that?!?!?! I can't wait because my birthday is in three short months! Yay!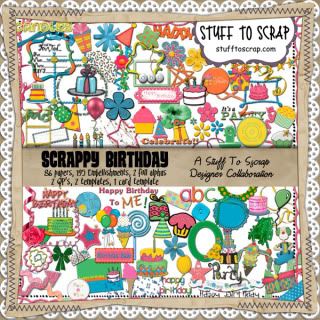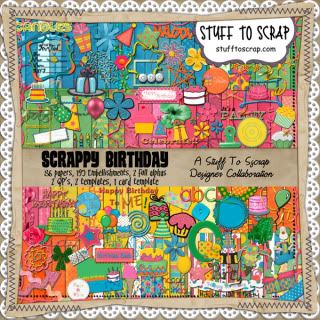 Finally, I have some awesome new kits to tell you about. Since I've lost all my stuff, I've spent a lot of extra time browsing the STS store, so buckle up and let me tell you about some of these. :)
First up, just a reminder of the JW Digiscrap and Nibbles Skribbles collab. Too cute for words!
Next is a kit by Scrapping Rainbow Designs, a new designer at STS. It's called "Rainbow Sherbert". Check out how sweet this thing is:
Gorgeous colors:
I just love this one...definitely using this SOON!
Awesome CU car templates.
Check out these papers, don't they rock?
I am totally lovin' this one...and it's the kit being used for the QP exchange this month, so if you snag it and make a QP, you can get tons more in exchange.
And finally, this just went into the store today. Such pretty colors, huh?
Okay, I promise to be back on in the next couple days with information about an awesome kit JW Digiscraps is coming out with. It's a collab, so you know it's going to be huge and awesome. :) Plus, I have a QP I'm working on that I'll have for you later in the week! TTYL!