Well, we just had our first truly sunny day in a while and we spent it playing at the park. That means I'm totally exhausted and this is going to be short, LOL! Daffodils have been blooming all over our neighborhood, so I was super-excited about this month's blog train even though I knew my time to participate was going to be seriously limited. :-P Here's what I did manage to get finished. There are two links (4shared since the direct download gets so bogged down with blog train days), one for the worn papers and one for the rest of it, so be sure you get both! Have fun collecting all the parts: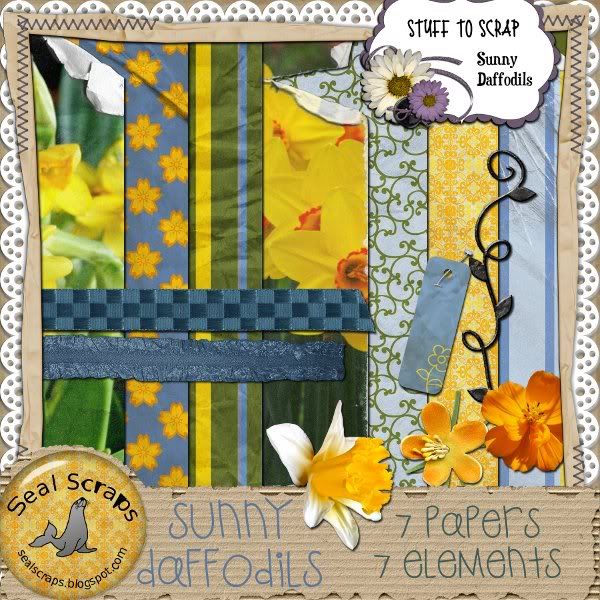 Worn Papers
Patterned Papers and Elements
And here are all the stops this month:
Sprouting Seeds Studio
Scraps by Andrea
Growing Pains Scrapped
Note-able Scraps
Just For Fun Designs
Flower Pot Designs
scraphannah
Sweet Maple
A Fish Design
Long's Life & Loki
Farrah Smith Designs
JMC Designs
AmyDane Designs
Christins Creations
CutieFruity
The Scrappy Kat
Saphira's Scrapdesign
The Queen of All Wild Things Scraps
Scrappin Serenity
Designs by Snowlady
Memories by Digital Design
Queen Bee Scraps
Let Me Scrapbook!
Lindsey's Digital Scrapbook
Brenian Designs
Always Be Neighbors Designs
Sweet Creations
Seal Scraps
<-- You Are Here
Flower Scraps
Scraps N Pieces
Scrappin Ninnie
Purple Bokeh